Seaman (Automatic)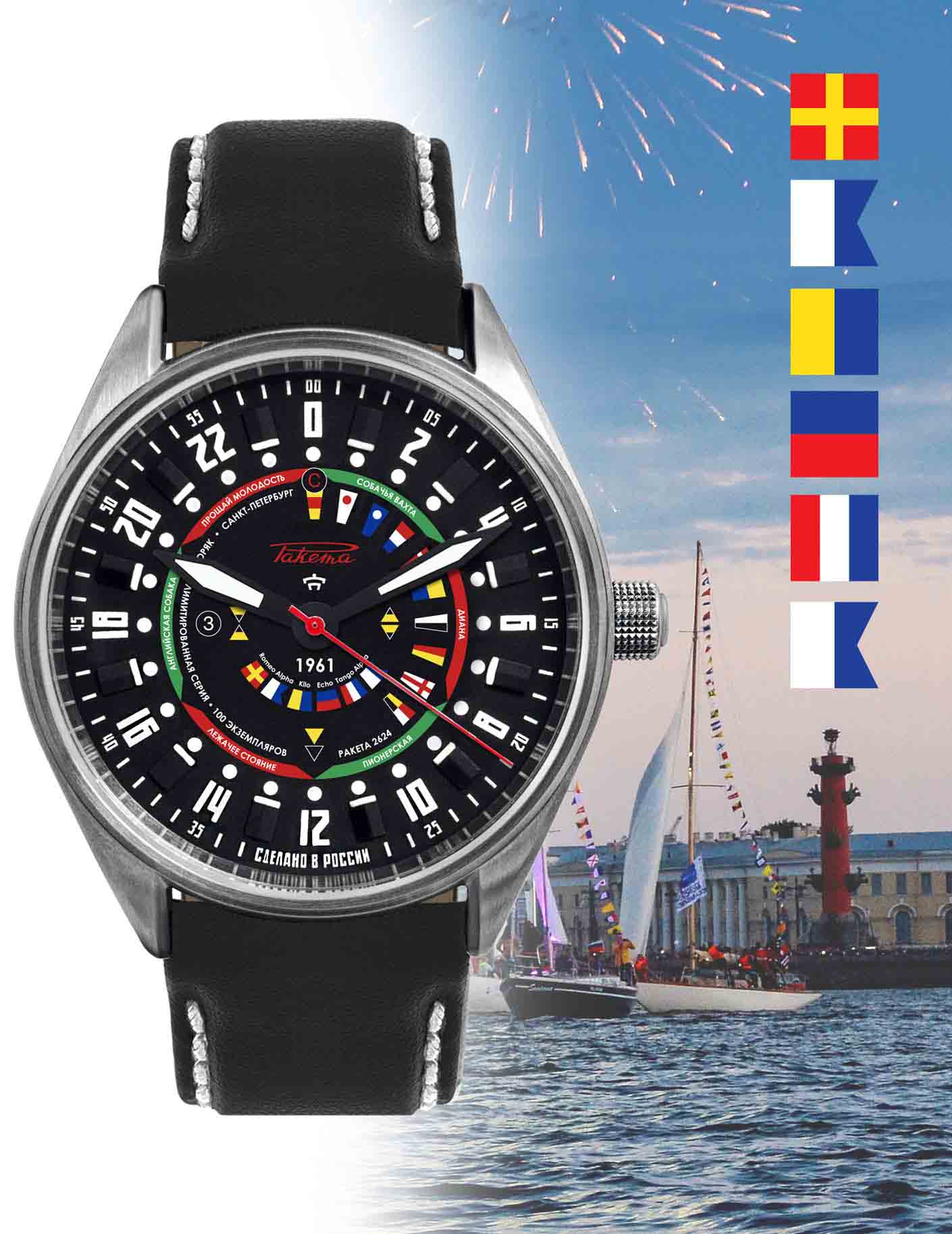 Petrodvorets Watch Factory traditionally supplies Navy. Raketa "Seaman" is one of the most unique models produced by Petrodvorets Watch Factory.
Just as legendary Russian seafarers opened up new vistas for geographical exploration, Watch Factory "Raketa" pushes the limits of Russian watchmaking by producing its own movements and using new design solutions.
The watchmakers used the unique technology of printing on "Raketa — Avtomat" movement which has no equal in watchmaking. The decor on the movement reflects its Russian character. Through its transparent caseback the real watch lovers can see the marine pattern from Soviet times.
Raketa "Seaman" wrist-watch with 24-hours dial is decorated with Marine cardinal buoys and crew rotations. Numbers from "0" to "9" and the word "RAKETA" refer to International marine signal flags that are used to send messages between the ships.This watch comes in a limited edition of 100 pieces.
With Raketa "Seaman" on a wrist you will feel as a participant of the well-known Russian sea expeditions!
Characteristics
| | |
| --- | --- |
| Movement: | Автоподзавод: Автоподзавод |
| Movement name: | Ракета Автомат 2624A, мануфактурный |
| Number of jewels: | 24 |
| Average running time: | 40 ч/h |
| Movement height: | 6.8 мм |
| Frequency/hour: | 18.000 / 2.5Hz(Гц) |
| Function: | 24 часы, часы, минуты, секунды |
| Crystal: | Сапфировое |
| Case size: | 44 мм |
| Water resistant: | 20 АТМ |
| Special features: | (Русский) Солярный компас, Морские кардинальные знаки, Международные морские сигнальные флаги |
Gallery:
Where to buy