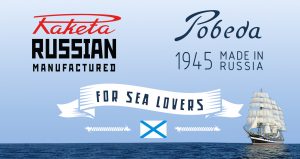 Petrodvorets Watch Factory, as well as the Russian fleet, was founded by Peter the Great. The factory traditionally produces Russian watches for sailors. Feel the spirit of freedom, adventures and new discoveries with "Raketa" watches. We congratulate you with the Day of the Russian Navy!
The most popular watches for people who love the sea:
Renewed Raketa "Seaman" model based on "Raketa — Avtomat" movement.
Limited edition of 100 pieces.
Raketa "Amphibia" is specially designed for extreme diving under ice.